Do not wait for ideal circumstances, nor for the best opportunities; they will never come." - Janet Erskine Stuart
---
---
---
---
---
---
---
---
---
---
---
Improve Your Online Small Business Profits
---
It seems as if everybody has an account in one or more social
networking sites these days, and why not?! Social media
today boasts of a huge and involved user base, something that
marketers love! However, that's not all that social media has
to offer; SEO is another huge advantage!

When used right, certain social media strategies can help you
improve your site's search engine rankings and open up new
entry points for web traffic. You can easily convert the new
visitors into your mailing list subscribers, if you have a well-
designed optin with an attractive offer. As a business owner,
you already know that a growing email list means improved
chances of actual conversions!

Here are the top tips that will help you make the best use of
the SEO opportunities that social media offers:

1. Social Media Links

Many businesses add their social media links on the home
page of their company website. However, there are some that
take their other sites for granted when it comes to adding
social media links. If you really want to make the most of the
SEO opportunities presented by social media, you'll have to
add your links wherever you deem appropriate.

If you have a blog, add your links there. If you have your
business listed on directories, don't forget to fill out the fields
where you're allowed to add links to your social media
accounts. If you're on Google+ or Facebook, add the links to
your other social media accounts on your profile.

Adding your social media links wherever you can may not
directly lead to more web traffic, but it will definitely
strengthen your online presence. This will eventually lead to
better search rankings. As someone with ample experience in
SEO, you should know that the more links you have to your
own content, the better your online exposure will be.

Furthermore, research has firmly shown proof of the
importance of social media in marketing campaigns; time and
again, it has shown that content shared on social media
platforms gets indexed a lot faster than it otherwise would.




It's important to add your social media links wherever you
deem appropriate so as to get your content indexed faster.
Image Source

2. Alt Tags

Just as many people neglect to add their social media links on
some of their sites, they also often overlook Alt tags for the
images on their sites. Don't make the same mistake of being
too focused on creating Meta tags for your site content that
you forget other tags can be very beneficial as well. When
you add Alt tags to your site images, you are actually
increasing the possibility of those images getting indexed by
Google. This can drive more traffic to your company website,
since the images are hosted there.

Since social media icons can be considered images, you'd do
well to add Alt tags to the ones you have on your site as well.
You've probably read the phrase, "Like us on Facebook"
countless times already. You can take this a step further by
adding the tag, "Like (company name) on Facebook." This
has the advantage of including two very important keywords
that are likely to get the icon on your site indexed: the name
of the social networking site and the name of your company.

3. Google+ Listings

If you've been paying attention to the online marketing trends
in 2012, then you'll know that a strong presence on Google+
can help improve your website's performance in terms of
getting your site content indexed and displayed on top of
search results.

Google has moved to connect online search to social media,
which definitely makes a strong presence on their social
networking site very important for SEO purposes. Therefore,
if you want to take full advantage of social media for your
company's SEO, you shouldn't forget to add the Google+
icon as well as the Google Authorship tag on your company
website.




Being active in Google+ and adding the Google Authorship
tag on your sites can help strengthen your online presence.
Image Source

Now you know of three things that are sure to help you grab
some wonderful SEO opportunities from social media, but
what exactly can they do for you? How can social media
benefit your company? What does it have to offer in terms of
marketing? Read on to find out.

4. Brand Building

Consumers have become very suspicious and they aren't
likely to do business with a company whose brand is
unfamiliar. By being an active participant in popular social
networking sites, you can build your brand in several
different ways. The first step is to create profiles for your
business on these sites and then post relevant business
information on each of them.

This should help create awareness of your brand. You may
then catch the interest of your target market by regularly
posting relevant content that directly address both their stated
and implied needs. When their questions in relation to your
posts start coming in, be sure to provide useful answers so as
to establish authority and earn their trust.

5. Link Building

Among the most notable features of social media is its
capability for viral promotions. If you can successfully attract
the interest of your target market, they're likely to share your
content and links to their online friends. If the friends who
see your content become interested in what you have to offer
as well, then they're likely to share your links to their own
circle of friends.

In time, the reach of your links will expand such that traffic
to your company website will increase. Since this additional
traffic is composed largely of people who are already
interested in what you have to offer, your conversion rate is
likely to increase as well.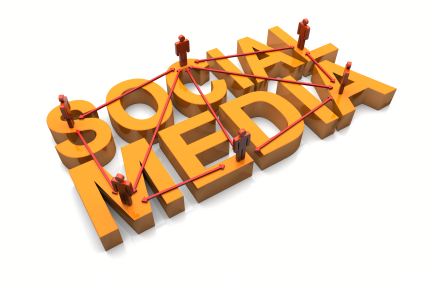 Participating actively in social media sites can help you
extend the reach of your links. Image Source

6. Relationship Building

Bear in mind that the people who use social media are real
individuals and these are the individuals who follow your
links and "Like" your content. They have independent
thoughts and make their own decisions. This makes it all the
more important to build a strong relationship with them and
win their loyalty to your brand.

The good news is that social media provides the perfect
platform for building relationships. Every time you thank
people for taking the time to read your posts and comment on
them, every time you answer their questions, and every time
you participate in their discussions, you are making them feel
important. That is the best way to build a productive
relationship with your target market.

Becoming active on social media without taking advantage of
it for purposes of SEO is tantamount to giving away huge
amounts of money. So, the next time you log on to your
social media accounts, think long and hard about how you
can leverage it for your company's SEO.

###
Emma-Julie Fox writes for Pitstop Media Inc, a Vancouver
company that provides SEO services to businesses across
North America. If you would like to invite the author to write
on your blog too please contact http://www.pitstopmedia.com/


---
Check out other articles on this topic:

Print this article
Have articles like this sent to you weekly for free: